All the important stuff…….
NB: By paying your deposit you are agreeing in full the the following terms and conditions;
Deposits and payments
Deposits are non refundable / non transferable, unless the order is cancelled within 14 days of booking.
Deposits for Celebration cakes are £10
Deposits for Wedding Cake are set at £50
Full payment of your order is required before delivery and or collection, which is 7 days prior to delivery for celebration cakes and 28 days prior to delivery for wedding cakes
Cancellation
If for any reason you wish to cancel your order please email Hayley@dollybirdbakes.co.uk
Orders cancelled within 14 days of booking will receive a full refund unless work has already started on the order.
Orders cancelled after 14 days will lose their deposit. You will also be billed for any work completed or specific items which have already been ordered / sourced for your order.
Orders cancelled with less than a week until delivery / collection will require full payment and no refunds will be given.
In the unlikely event I need to cancel an order I will give as much notice as possible and give a full refund
Limit of Liability: In the very unlikely event of severe medical, natural, or other emergencies, it may be necessary to retain an alternative Cake Designer. Dollybird bakes will make every effort to secure a replacement cake designer able and / or willing to provide similar products and services as chosen in this agreement at the same / similar tariff. If such a situation should occur and a suitable replacement is not found, responsibility and liability is limited to the return of all payments received for the event.
Dollybird Bakes cannot be held liable for emotional, physical or financial distress due to any unforeseen circumstances that may present themselves.
Design
I will strive to create your cake exactly to the design description / sketch given, however the design may need to be altered for it to work on the cake.
Dollybird bakes has the right to decline a cake design if it is not in keeping with their brand or style.
All cakes are hand crafted, because of this there may be slight variations in colour / size and the overall look of the cake.
If you need to change the design of your cake, please let me know as early your earliest convenience to ensure the change is viable.
Celebration cake designs may be amended up to 7 days before the delivery / collection date.
Wedding Cakes designs may be amended up to 4 weeks before the wedding delivery date.
The price may change due to the alterations need. This can go up or down.
Delivery and Set up
Wedding cake delivery delivery is available 7 days a week from 9am to 8pm.
Delivery is charged at 45p per mile plus travel & set up time for the return journey. Please provide postcodes for an accurate quote.
I strive to deliver cakes on time, however I cannot be held liable if weather, traffic or other conditions out of my control that delay the delivery.
Please make me aware if there is anything that will make delivery problematic. Such as no parking, roadworks or your venue isn't easy to find.
Although every possible care will be taken with the delivery and set up of your wedding cake, once delivered the cake becomes the responsibility of the wedding venue / customer. Dollybird Bakes cannot be held responsible for any destruction of said cake or products once they are in the care of the venue / customer.
Stand Hire
Stands are hired out at a cost of £10 for Cake Stands and £10 for Cupcake Towers.
A fully refundable security deposit of £50 is required to hire a stand.
The deposit will be returned in full no later than 5 days after the return of the stand as long as the stand is returned in the condition it was borrowed.
Please do not wash the stand. You may wipe it with a damp cloth if required.
Any damage will be assessed and your deposit may be held to cover repairs or replacements.
All hired items must be returned within 5 days of the event. Unless otherwise stated, it is up to you to return the stand to Dollybird bakes.
If the stand is not returned within 5 days, a further fee of £5 per item per day will be added until the stand is returned.
Collection of the stand from the venue is available and will incur a small fee depending on location. Please let me know when ordering.
Publication & Advertising
The photos taken of your cake before they are delivered belong to Dollybird Bakes
The photos will appear on our website, facebook page and any other social media accounts we hold.
The photos may be used in future publications or advertising.
If you would like copies of the photos for personal use only please email Hayley@dollybirdbakes.co.uk
Returns & Problems
If you are unsatisfied with the design of the cake please inform me on delivery / collection. At this point there is still time to amend the cake design, so that you are happy with it.
If you wish to return the cake, please email Hayley@dollybirdbakes.co.uk or contact me on 01566 451254 / 07734 865261 at the earliest opportunity. Clearly explain the problem.
If the cake is damaged before delivery, all efforts will be made to fix the damage.
Dollybird Bakes is not responsible for any damage caused after delivery or after collection of your order.
Any work repairing a cake damaged through no fault of our own will incur a fee.
Looking after your Cake
Please store your cake in the delivery box in a cool room away from direct heat and out of direct sunlight
Please keep pets away from the cake.
Please do not place your cake in the fridge, as this dries out the sponge and causes the icing to sweat.
Once cut wrap any cut edges in clingfilm or foil to preserve the freshness & return to the box provided.
The cake is best eaten within 48 hours of delivery. However it can last up to a week.
General Items:
The performance of this contract on behalf of Dollybird Bakes shall be dependent upon acts of God, weather and/or road conditions, flood, fire, warfare, government laws or regulations, electrical failure, strikes by suppliers, and / or conditions beyond its control.
Any non-edible decorations, jewels & accessories such as brooches, ribbons, silk / paper flowers, diamonds, beads, feathers and clay that can be used to decorate cakes are not edible and must be removed from your cake before serving. Full documentation of any non edible items will be given on the cake care sheet.
We will only use decorative items and accessories at our clients' request and Dollybird Bakes accepts no responsibility for any physical harm that may arise from their misuse.
At your request, we can use fresh flowers to decorate your cake and can liaise directly with your florist. Please note that some flowers are not suitable for cake decoration. Your florist will be able to inform you of these. Any contamination to your cake is not our responsibility.
Dollybird Bakes shall not be held responsible for nut allergies for the venue / customer or their parties. All cakes COULD contain traces of nut as Dollybird Bakes kitchen does handle nuts. It is the responsibility of the venue / customer to inform their guests that traces of nut COULD be present in the cake.
Prices are valid from 1st January to 31st December each year and are subject to change without notice.
Your quote is valid for two weeks from issue, after this period a re-quote will be required.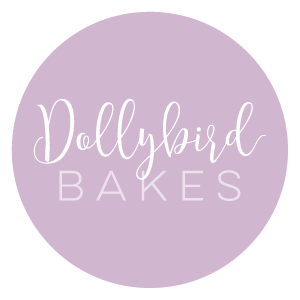 01566 451254 / 07734 865261
1 Cleaverfield Mews, Launceston, Cornwall PL15 8DD (By appointment only)